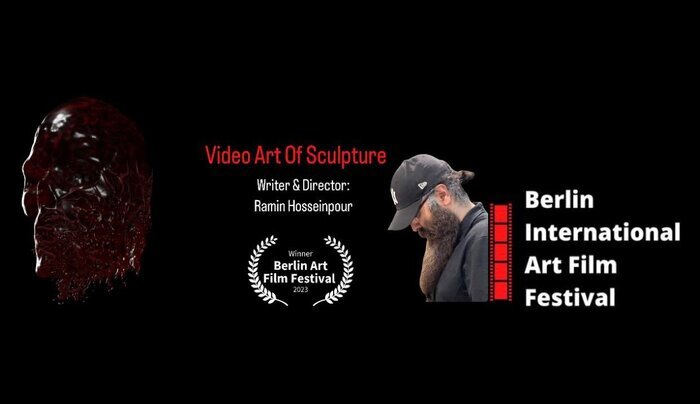 TEHRAN – Iranian artists Ramin Hosseinpour won the Best Experimental Music Video award at the 16th edition of the Berlin International Art Film Festival in Germany.
Hosseinpour received the award for his video art of 'Sculpture'.
His video art has been previously won awards at various international festivals including 2022 Vancouver Independent Film Festival Award, 2022 Rome Music Video Award, One-Reeler Short Film Competition, International Music Video Underground, Munich Music Video Awards, Boden International Film Festival, High Tatras Film & Video Festival, Art Blocks International Film Festival, Europe Music Video Awards, Vegas Movie Awards, Accolade Competition, Europe Film Festival U.K. (EFFUK), Stockholm Gold Awards International Film Festival, Prague International Film Festival, International Izmir Short Film Festival, International Music Video Awards  and Zagreb Film Festival.
Hosseinpour is the music video director, producer, composer, arranger, and electric guitar player.
Earlier, he was chosen as the Best Male Vocalist at the LA Music Video Awards 2022 for his video art of 'Sculpture'.
Berlin Art Film Festival has been selecting, promoting and screening films through its screening platform of Euro Arthouse Cinedaily in the past three years. The festival has a bi-monthly online edition and an annual competition with bonuses and awards for the winners of the best feature and short of the year. The festival stands with independent cinema and promotes arthouse film projects of all genres in various categories of the competition.
ZM/